Deck Lighting, Low Voltage lighted post caps, Under Rail LED Deck Lights, and Outdoor Lighting for your deck
| | | |
| --- | --- | --- |
| Pyramid Post Caps | Hammered Post Caps | Cast Bronze Deck Lights |
| | | |
| | | |
| Under Rail Deck Lighting | Unique Deck Lights | Step Lights |
| | | |
| | Click the images to go to the purchase page for these lights | |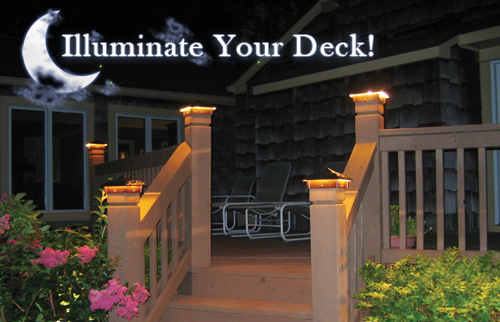 Make Your Deck Safer and More Usable After Dark!
Did you spend thousands of dollars on your deck to only use it during the day?
Heck no you didn't!
Light It Up, and enjoy your deck at night too!
Use your deck at night without attracting swarms of bugs!

Add safety and security for your family and guests.

Protect your posts from rotting and weathering.
Are you tired of seeing the same deck lights and post caps on every other website?
Welcome to something unique.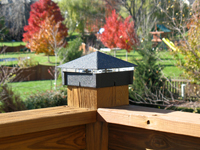 Hi, I'm Steve Hodes Jr, owner of Moonlight Decks. If you have just started your search for deck lighting please add my site to your favorites. I think you might want to come back for a second look.

If you prefer quality over a cheap deck light that you may end up buying again in a year or two, then you have come to the right place.
I've been making these deck lights and lighted post caps right here in Kansas City since 2004. Using local foundries, machinists, powder coaters, and acrylic companies I strive to keep my post caps Made in the USA!
Our lighted post caps are some of the thickest, most durable deck lights you will ever find!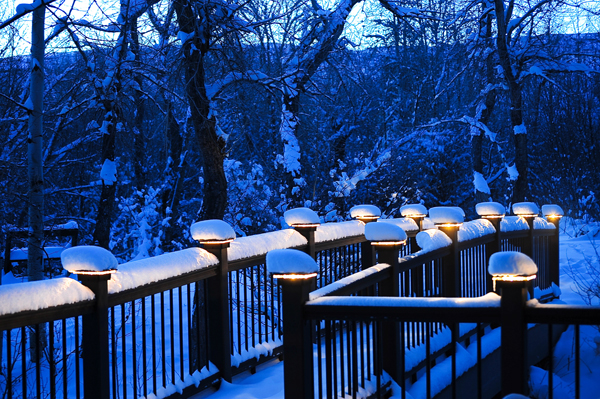 Pictures of deck lighting sent in by my customers! Some of these pictures are absolutely gorgeous!
Or, browse through the two deck lighting photo galleries,
Deck Lights Photo Gallery 1
Deck Lights Photo Gallery 2
You'll get a good idea of the ambiance that your deck can provide for you after dark.
You didn't put all that money, time, and effort into your deck to only be able to use it during the day did you? For a fraction of the cost of the deck, you can double your usage. Our deck lighting has a fantastic look during the day and provides a romantic, ambient light at night. All this, without attracting swarms of bugs!

Plus, if you have wood posts, you will save them from rotting!

And they are incredibly low maintenance!
Custom Colors and Sizes are available for our lighted post caps!
Here's a sample of what customers are saying about my lighted post caps. Click here for more Testimonials.
"Good morning, Mr. Hodes,
The lights got here in great shape day before yesterday, and they are BEAUTIFUL!!! The finish is ideal for the deck design and color scheme. Even Virginia, who has been known to pinch a penny until Lincoln screams, said that they are more than worth the price. And thank you for getting them here so quickly, before the handrails are complete--now the wiring can be completely enclosed. Thank you for providing such a quality product and service!!"
- Brad P
Columbia, SC
"Thanks again for the great service/product. When I tell people the cost they think I'm crazy. Then they see them up close and in action and agree its a superior product that is also a unique and functional addition to the deck. Why spend $20k on a deck and then cheap out on the part that "caps" it off? Pun intended : )"
- Joe L
"Hi Steve,
WOW! Today I received two more Hammered Bronze Post Caps and they really came out beautiful! "
-Renee
"Our community has been thoroughly enjoying the lights we bought from you 5 or 6 years ago. They are made like tanks, and we get complements from homeowners and visitors all the time."
- Jim Ward
Lexington, SC
Feel free to call me anytime with questions,
913-638-1685.
I usually answer my phone until 9:30 pm CST, even on weekends. And I answer emails / return calls within minutes or hours and always within 24 hours.
Since 2004, Moonlight Decks has been providing the highest quality deck lighting products for upper end homes. Based in Kansas City, all of our post caps are made in the USA!
Custom colors and sizes are available as well.
I recommend Cass Brinkman from All Weather Decks if you are building a deck or repairing a deck in Kansas City.
Deck Lighting in Kansas City! If you are in Kansas City and would like to see the deck lights in person, I can arrange to show you the post caps on your deck. We can also arrange to install the deck lights for you. Call me on my cell,
913-638-1685, to arrange an appointment. Or you can also view the caps at these fine stores:
Landmark Lighting
13257 W 98th St.
Lenexa , KS 66215
Ask for Craig or Mike

Latest Blog Post

Specials / Projects

10% off installation if you mention you saw this on my site.

Call for details.