This is a new page featuring images provided by our customers.  Some of these lighted post cap pictures are simply amazing!  I love to see all the different settings and styles of decks illuminated by our caps.  Scroll down through these images to help stir your imagination of what you can do with your deck.
These pictures are from Amy Kenworthy in Wyoming.  These are my absolute favorite right now.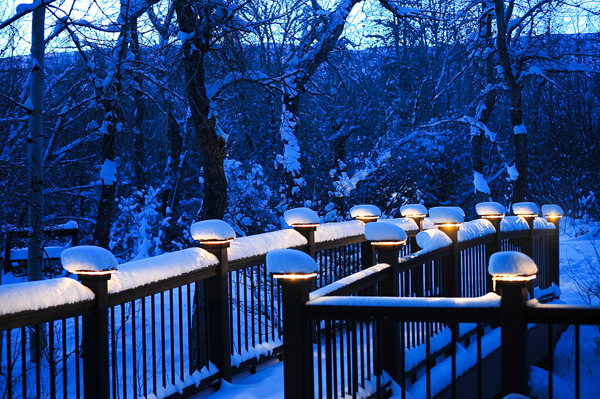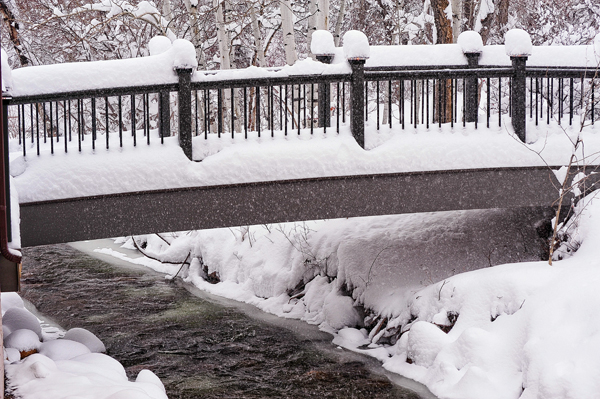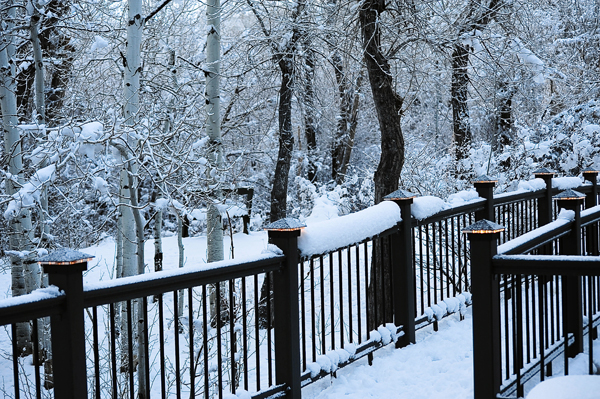 Thank you so much for these pictures Amy!
This one is a little blurry, but I love the lighting effect that is showing up on the snow on the deck.  It looks like a snowflake!   My deck lights have this interesting effect that is cast onto the ground.  It was unintentional, but is truly unique.  It looks a little like the iris of an eye.  Thanks for the pics Bob!!
These are the Solar version of the Hammered Copper Vein Lighted Post Caps.
Thanks Greg!!!
From Alberta, Canada Steve Tagg had us make a 20 inch Hammered Post Cap in Roman Bronze with a 16″ Base to fit over his rock columns.  These look amazing
I want to show off your deck here!  I certainly don't have mountain views or aspen trees for taking pictures like these of the decks I do here in Kansas City, so I like to show off pictures of your deck lighting from all over the country.
Send me your pictures once you get my lights installed.  And go ahead and include pictures of yourself enjoying the deck lights.  I'd really love your videos too.  I haven't had one yet, so I'd love a video to use as a testimonial.
Don't forget, you can always call me if you have questions before or after you purchase the deck lights.  And if you want a more personal touch than just ordering off the web, give me a call so we can talk for a few minutes while we do the order.  I love to talk and see if we can come up with new ideas together or even just go over some simple wiring strategies for the low voltage lights.
Thanks!!
Steve